Será que são boas essas lentinhas? São bem baratas, então imagino que não dê para esperar muito… Mas fiquei bem interessado na 24 para usar na Nex.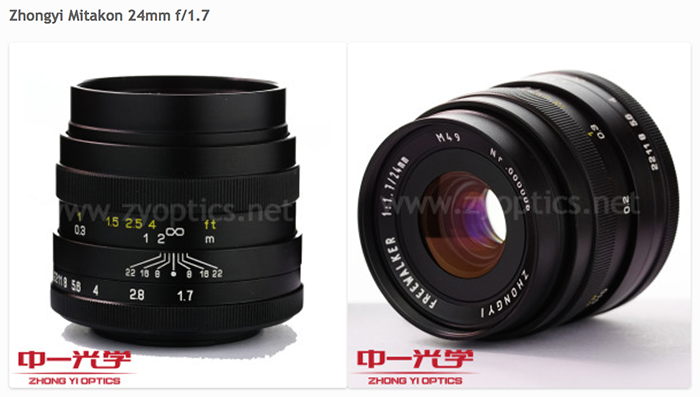 Press Release
Zhongyi Optics Announces Pricing & Availability of Two New Lenses for Mirrorless Cameras
New 42.5mm f/1.2 & 24mm f/1.7 with Sony E / M43 / Fuji X mounts available in Photokina
Shenyang China, Sept 14, 2014 – Shenyang Zhongyi Optics (ZY Optics), a leading Chinese manufacturer of camera lenses, has unveiled two fast prime lenses for mirrorless camera users. The new Zhongyi Mitakon 42.5mm f/1.2 Lens features an incredibly fast aperture of f/1.2, making it ideally suited for low-light conditions shooting, greater control over selective focus and shallow depth of field imagery. Designed for the use with an APS-C-sized camera sensor, the lens gives a 35mm-equivalent focal length of nearly 64mm. Above features provide an excellent portrait shooting solution for mirrorless cameras users. The lens also houses with 7 elements in 9 groups of optical lenses to provide great deal of image clarity and color renderness. The new Zhongyi Mitakon 24mm f/1.7 Lens is a fast prime wide-angle lens that provides a 35mm-equivalent focal length of 35mm, making it ideally suited for everyday shooting applications. The fast f/1.7 maximum aperture benefits working in low-light conditions and also avails greater control over the focus position for shallow depth of field and selective focus techniques. The 0.15m ultra close minimum focus distance benefit users in image composition. The lens incorporates 9 elements in 8 groups with ED lenses in order to minimize chromatic aberrations for greater clarity and color accuracy. The compact size (55mm x 61.5mm) and light-weight (246g) of the lens also make it perfect for mirrorless camera users. Both of above lenses comes with Sony E, Micro four thirds and Fuji X mounts. It will be available for trial in the booth of ZY Optics in Photokina 2014. (Hall 5.1, booth K-049)
Pricing and Availability Zhongyi Mitakon 42.5mm f/1.2 & Zhongyi Mitakon 24mm f/1.7 will be available in this winter at ZY optics authorized resellers and at the new official website (http://www.zyoptics.net/). Pre-order will start in the end of Sept in our official website. The recommended retail price of 42.5mm f/1.2 will be at USD 359 and 24mm f/1.7 will be at USD 289. Both lenses are priced at a highly affordable price to make these excellent lenses available for every mirrorless camera user.
About Us Shenyang Zhongyi Optical and Electronic Company (ZY Optics) is a leading Chinese camera lens & adapters manufacturer. We currently manufacture and distribute lenses and lens turbo adapters under the brand name of 'Mitakon' & 'Zhongyi'. For more information about Shenyang Zhongyi Optical and Electronic Company Limited and our products information, visit http://www.zyoptics.net
Specifications
Zhongyi Mitakon 42.5mm f/1.2
Lens type Manual lens
Max Format size APS-C
Focal length 42.5 mm
Lens mount Sony E / M43 / Fuji X
Aperture
Maximum aperture F1.2
Minimum aperture F16.0
Aperture ring Yes
Number of diaphragm blades 9
Optics
Elements 9
Groups 7
Focus
Minimum focus 0.45 m
Distance scale Yes
Physical
Weight 310 g
Diameter 60 mm
Length 52.5 mm
Colour Black / Silver
Zoom method Rotary
Filter thread 49 mm
Zhongyi Mitakon 24mm f/1.7 Lens
Lens type Manual lens
Max Format size APS-C
Focal length 24 mm
Lens mount Sony E / M43 / Fuji X
Aperture
Maximum aperture F1.7
Minimum aperture F22.0
Aperture ring Yes
Number of diaphragm blades 12
Optics
Elements 9
Groups 8
Focus
Minimum focus 0.15 m
Distance scale Yes
Physical
Weight 246 g
Diameter 61.5 mm
Length 55 mm
Colour Black / Silver
Zoom method Rotary
Filter thread 49 mm